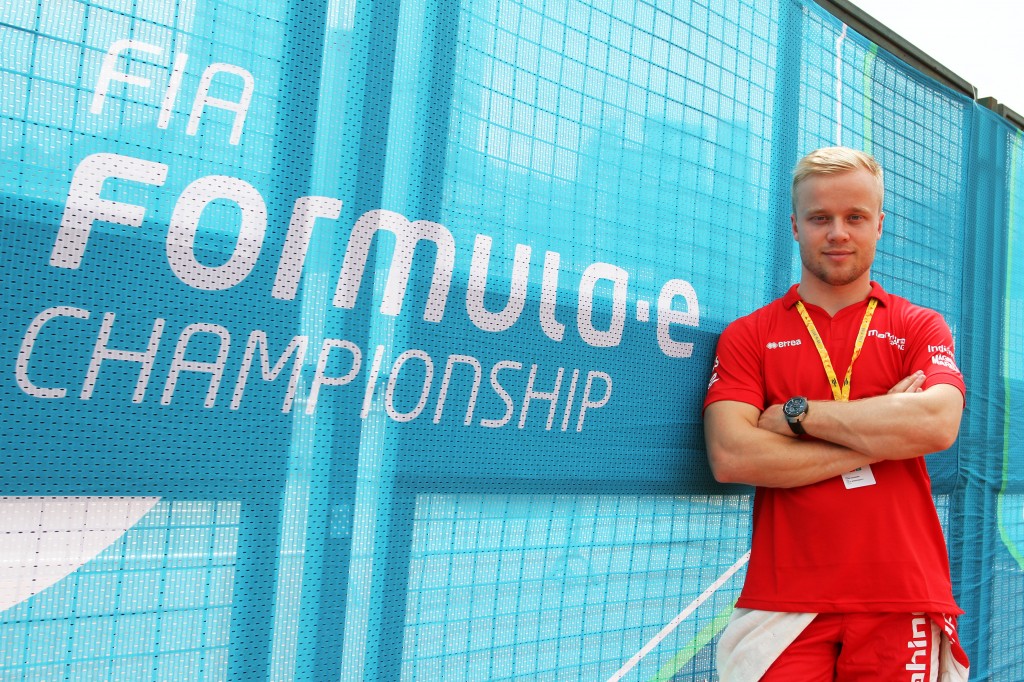 Felix Rosenqvist
, 25, is a Swedish racing driver, competing in the FIA Formula E Championship with Mahindra Racing and in Japan's Super Formula series with Team LeMans.
Felix Rosenqvist is the 2015 FIA Formula 3 European champion, a two-time Masters of F3 and Macau Grand Prix victor, and a three-time Formula Renault title winner.
In October 2016, Rosenqvist entered the all-electric FIA Formula E championship, setting the fastest lap of the race on his debut in Hong Kong and taking his first pole position and podium just one event later in Marrakesh, Morocco.
2017 saw Rosenqvist evolve into a proper Formula E frontrunner, scoring a maiden victory at the Berlin ePrix in June and eventually taking third in the overall 2016-17 standings, as the top rookie.
Rosenqvist continues in Formula E for a second season in 2017-18. Simultaneously, he races in Super Formula; Japan's leading single-seater series, sporting some of the world's fastest cars.
AGE 25
LIVES Monaco
HOBBIES Sports, music, movies
CLUB Royal Swedish Automobile Club (KAK)
FAVOURITE CIRCUIT Macau (Guia Street Circuit)
2017 COMMITMENTS
Formula E / Mahindra Racing
Super Formula / Team LeMans
LIVE IS ALWAYS BETTER
Want to support Felix on site at one of his 2017 races? Our travel agency partners at Nickes.Com bring you into the heat of action. Share the excitement in dedicated group trips, or go on your own, and back Felix's quest for glory in Formula E.
THE JOURNEY SO FAR
Felix Rosenqvist, 25, grew up in the Swedish cities of Värnamo and Malmö but currently resides in Monaco.
Felix began his career in karting, finishing second in the Nordic Championship in 2005 and competing successfully on the international stage until 2007 when he stepped up into single-seater racing and Asian Formula Renault. After finishing fourth overall and ending his debut season as rookie of the year, Rosenqvist stayed on in the Far East and won 10 out of 15 races to claim the 2008 Formula Asia 2.0 title.
In 2009, he returned to Sweden and won both the North European Zone and Swedish Formula Renault championships. At the end of the year, he did two one-offs – resulting in a SEAT Leon Supercopa podium on his touring car debut in France as well as two victories and a new lap record at the Formula Palmer Audi finale at Snetterton, Great Britain.
2010 saw Rosenqvist make the transition to Formula 3 with an assault on the German championship, winning two races and finishing on the podium eight times before ending the season on a high by coming home ninth on his debut in the prestigious Macau Grand Prix street race in China.
For 2011, Rosenqvist progressed into Formula 3 Euro Series with German outfit Mücke Motorsport, racking up ten podiums and one win. 2011 also saw Felix become the first Swede ever to win the tradition-steeped Masters of Formula 3 event at Zandvoort – a feat he would later repeat in emphatic fashion in 2013, winning comfortably from pole position and throwing in the fastest lap of the race.
In 2012, Rosenqvist dovetailed a second season of Formula 3 Euro Series racing with an attack on the revived FIA European F3 Championship, in which he finished third overall – winning four out of the final six races.
At the end of the campaign, he once again underlined his status as one of the fastest F3 drivers on the globe by finishing a close second in the Macau Grand Prix.
In 2013, the restructured FIA Formula 3 European Championship gathered all the leading F3 teams and drivers under one umbrella, with Rosenqvist again racing for Mücke Motorsport and finishing second overall with ten wins and 18 podiums from 30 races.
He also equalled the record previously held by current F1 star Valtteri Bottas as he bagged a second Masters of Formula 3 triumph.
In November 2014, Rosenqvist became the first Swede in 22 years to win the end-of-season F3 world finale in Macau, completing a season of street track success on the back of victory in the Grand Prix de Pau (France) earlier in the year.
Having won each of the major F3 standalone events, 2015 finally saw Rosenqvist add the only remaining accolade to his list of F3 achievements; the FIA F3 European Championship title. Now racing for Italian squad Prema Powerteam, he was crowned champion with one round to spare after a dominant display at the Nürburgring which netted him a clean-sweep of pole positions, race wins and fastest laps.
He then brought the season to a perfect end by repeating his Macau Grand Prix win of the previous year, becoming only the second driver in history to win the event twice.
2016 was Rosenqvist's most hectic season to date, featuring an intense schedule of racing across the globe. He combined race-winning campaigns in America's Indy Lights series and the European-based Blancpain GT Series Sprint Cup with touring car duties for Mercedes-AMG in the DTM, and later joined the all-electric FIA Formula E Championship for the 2016-17 season. On his series debut in Hong Kong, he set the fastest lap of the race, before going on to claim a headline-grabbing maiden pole position and podium in only his second start in the championship in Marrakesh.
Felix Rosenqvist is part of the Swedish national motor racing team.